Ouvrage publié à l'occasion de l'exposition "Un paysage de l'excellence, trois figures de l'architecture française : Frédéric Borel, Marc Barani, Ibos & Vitart"
Par son poids, par son volume et par son déploiement, par nature, aucune architecture ne saurait être exposée. En revanche, l'architecture expose – des idées, des desseins, des désirs. Mieux, l'architecture de Marc Barani s'expose, car elle tente et elle ose, elle relève le défi et « va vers son risque » (René Char). Contre le geste gratuit, contre l'équateur neutre, contre la transparence reine, Marc Barani élabore des formes scrupuleusement incarnées, diligentes à l'égard du sacré et du secret. Ponts, cimetières et logements intègrent moins un paysage qu'ils ne l'exhaussent. Ici, l'architecture est une épiphanie et la ligne d'horizon une maçonnerie.
Pour donner à voir cet imprésentable, seront convoqués des mots, des sons et des images, autant de substituts capables de dire la volupté et la singularité d'une architecture en son absence. En d'autres termes, il s'agira, comme s'y emploient toutes les œuvres de Marc Barani, de parfaitement tenir lieu.
By its weight, by its volume, by its breadth, by nature, architecture of any kind defies being exhibited. On the other hand, architecture reveals – ideas, intentions,desires. Better still, Marc Barani's architecture reveals itself, because it attempts and dares, it takes up challenges and "moves towards its own risk" (René Char). Against gratuitous gestures, against neutral equators, against supreme transparency, Marc Barani creates scrupulously embodied forms, dedicated to the sacred and the secret. Bridges, cemeteries and dwellings elevate a landscape rather than just fitting into it. Here, architecture is an epiphany and the horizon is the masonry. Words, sounds, images are called upon to reveal the unpresentable, substitutes capable of expressing the voluptuousness and singularity of an architecture in absentia. In other words, and as in every work by Marc Barani, it is about perfectly taking place.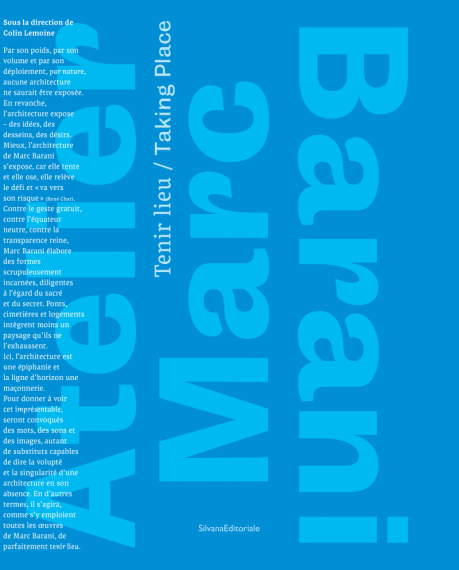 Fiche technique
Auteurs
sous la direction de Colin Lemoine
Édition
Coédition Silvana Editoriale / Cité de l'architecture & du patrimoine
Détails
français/anglais, 24 x 30 cm, 208 p.