Symposium Global Award for Sustainable Architecture 2023
Friday, October 13, 2023 - Auditorium
Prize-giving ceremony and lectures by the 5 winners.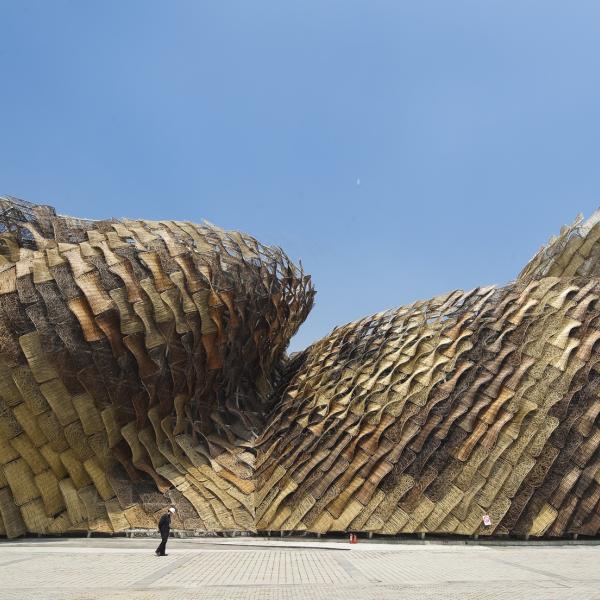 The Global Award, created by architect and professor Jana Revedin in 2006, rewards each year five architects who contribute to a more equitable and sustainable development and build an innovative and participative approach to meet the needs of societies, whether they are experts in eco-construction or actors of self-development for whom sustainability is above all synonymous with social and urban equity. The originality of the prize is to bring them together on a federating stage, to enrich the global debate. Attentive to emerging scenes, interdisciplinarity and experimentation, the Global Award is recognized as a discoverer of the architects of the 21st century: Wang Shu, Alejandro Aravena, Carin Smuts, Francis Kéré, Al Borde, Assemble, Rotor, Bijoy Jain or Marta Maccaglia.
The theme of the 2023 Global Award for Sustainable Architecture™ is "Architecture is Experimentation".
Experimentation: "The action or process of trying out new ideas, methods or activities."
Should architecture be experimentation? And if so - and this need is more urgent than ever before - how can we redefine architects as lifelong explorers, as they were at the time of the Bauhaus?
Discover the powerful positions of our 2023 laureates, who engage themselves in thinking and doing architecture otherwise and in teaching this to future architects by example and experience: Benedetta Tagliabue, Barcelona, Xu Tiantian, Beijing, and Simon Teyssou, Le Rouget, are architects who experiment with participatory processes in situated projects, through structural and material innovations with the people. Mette Ramsgaard Thomsen, architect and researcher, Copenhagen, composes and tests the biopolymeric building materials of the future. And the brothers Ronald and Erik Rietveld, Amsterdam, one an architect and artist, the other a philosopher, experiment with the existing as a way of giving new meaning to our historic contexts.
Jana Revedin
Founding President of the Global Award for Sustainable ArchitectureTM
Visitor information
Price
Free with registration